Dave Cottle - Piano : Alun Vaughan - Bass : Paul Smith - Drums.
A vastly experienced trio of professional musicians who have a wealth of experience accompanying 100's of Jazz artists from all over the world and can play many different styles. Renowned as one the best jazz trio's in the UK all can sight read music to an extremely high standard and each are renowned Jazz improvisors. The Trio usually provide the backing for visiting Jazz artists at Swansea Jazz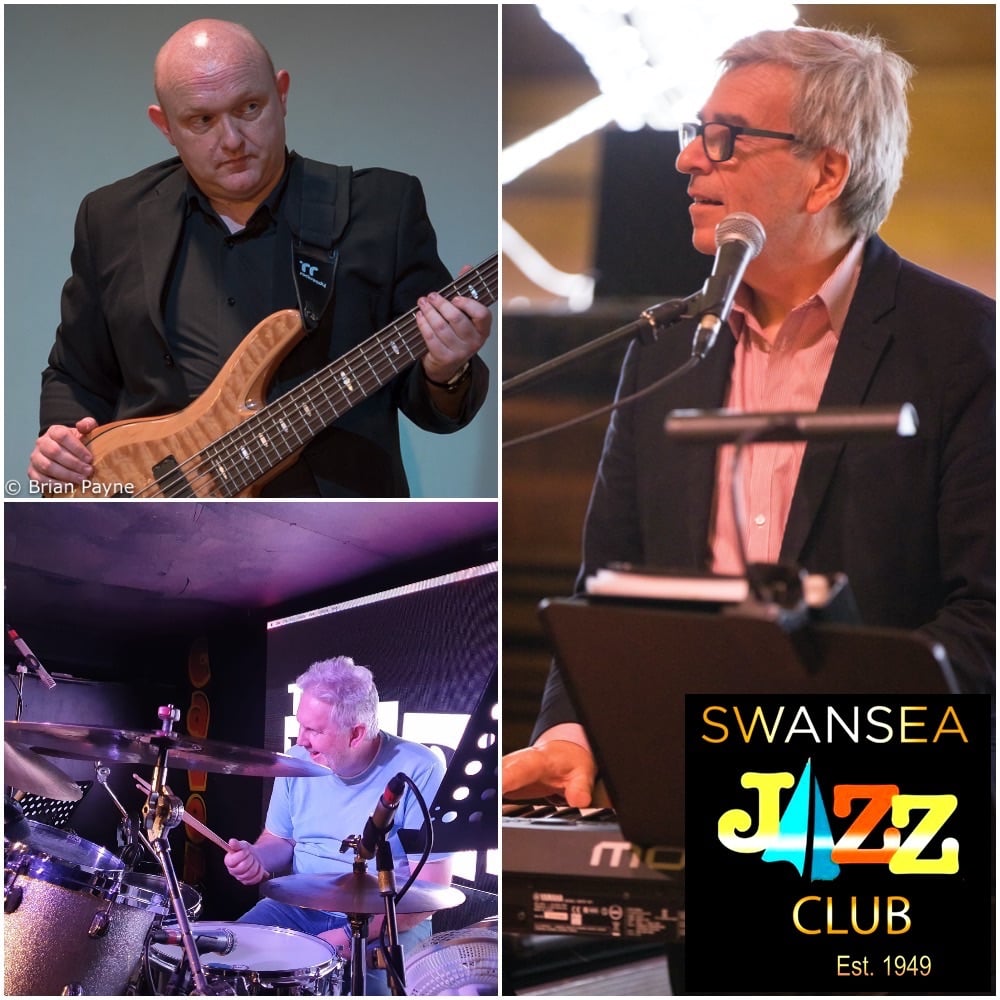 The trio have accompanied and worked with many Jazz performers including - Greg Abate, Bruce Adams, Howard Alden, Simon Allen, Eric Alexander, Alan Barnes, Mark Bassey, Chris Biscoe, Paul Bollenback, Brian Breeze Rhythm and Blues Band, Modesto Briseno, Gordon Campbell, Eric Clarke, Dave Cliff, Quentin Collins, Bryan Corbett, Kevin Deardon, Phil De Greg, Barnaby Dickinson, Julie Edwards, Digby Fairweather, Graeme Flowers, Matt Ford, Alex Garnett, Lee Gibson, Adam Glasser, Lee Goodall, John Hallom, John Ham, Dick Hamer, Li Harding, Tommy Harris, Jim Hart, Vincent Herring, Jeff Hooper, Pete Horsfall, Sarah Ellen Hughes, Julian Jackson, Zena James, Robin Jones, Paul Jordan's, Peter King, Tim Kliphuis, Jonathan Lewis, Gethin Liddington, Gareth Lochrane, Mornington Lockett, Gareth Lochrane, Hywel Maggs, Tina May, Chris McNulty, Esther Miller, Bob Moeller, Sarah Morrow, Danny Moss, Jim Mullen, Orla Murphy, Derek Nash, Oliver Nezhati, Mark Nightingale, Dave O'Higgins, Mike Outram, Andy Panayi, Dick Pearce, Gary Phillips, Wynn Phillips, Gary Potter, Power of Gower Big Band, Gerard Presencer, Berry Ray, Don Rendell, Phil Robson, Matt Sage, Karen Sharp, Martin Shaw ,Bobby Shew, Martha Skilton, Martin Speake, Simon Spillett, Tomaso Starrace, Mike Starr, Thomas Streutgers, Art Themen, Dave Tipton, Russell Van den Berg, Marlene Verplanck, Steve Waterman, Don Weller, Bobby Wellins, Jiggs Whigham, Tom White, Annie Whitehead, Simon Yillescroft, Martin Williams, Stevie Williams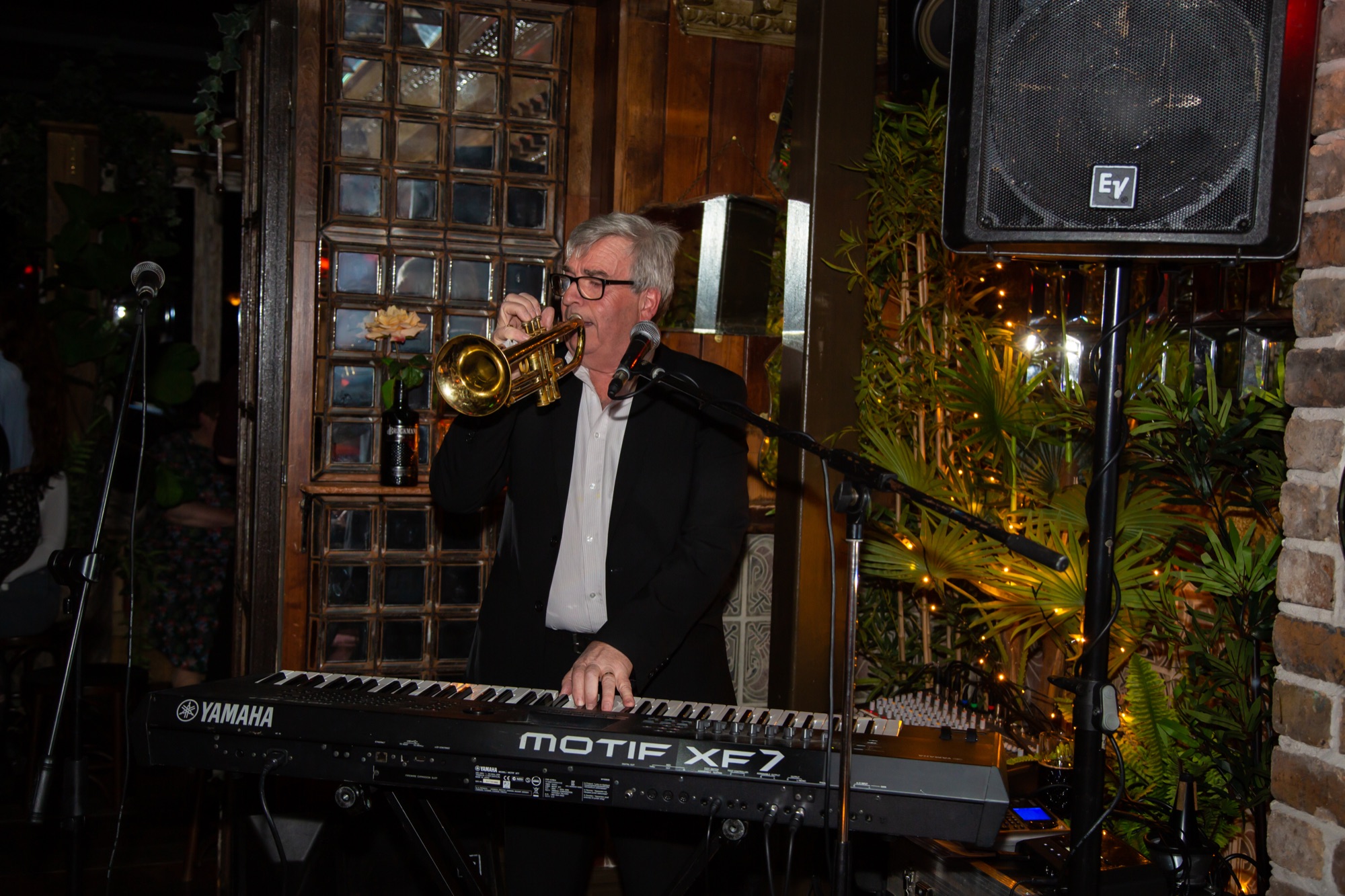 Born into a musical Family, Dave started plying piano at 4 years of age with lessons from his grandmother, a prolific pianist and tutor.
Dave's early years were spent treading the boards in show business where he and his younger brothers Richard and Laurence preformed a comedy and magic routine throughout the late 1960's and 1970's. Gradually the comedy and magic got replaced with music as the boys musical ability increased. Appearances followed on Tv/Radio and theatres such as the London Palladium, plus summer seasons with artists of the day such as Cilla Black, Ted Rodgers, Vince Hill, Ken Dodd, Freddie and the dreamers, Bill Maynard, Stan Sennet, Wyn Calvin. Dave also picked up the trumpet at 13 years of age as a second instrument. Dave passed his classical grade 8 piano exam at 15 years of age. With a strong ear for improvisation coupled with excellent music reading skills, Dave was and remains in big demand on the music scene for a variety of musical work - bands / accompanying cabaret artists/ musical theatre shows. Dave's father Peter was a dance band musician and Dave was "depping" for his Dad in Dance bands at 16 years of age. Dave played lead trumpet with Matt Monroe in 1977.
As teenagers Dave and his brothers were playing Traditional Jazz with Trumpet/Clarinet/Trombone line up and Dave first found an interest in Jazz Music,
In his early 20's the show business side of things declined when both Dave's brothers moved away to pursue their own musical careers. Dave decided he didn't wish to move away from Wales and having joined the GPO in 1973 as an apprentice engineer remained with BT for 40 years, retiring in 2013.
Dave pursued his interest in Jazz, playing at the the Swansea Jazz Society events at the Liberal Club (now St James Club - Swansea Jazzland) back in the 70's and 80's. and listening to the many fine artists that visited in those days. Dave also formed his own successful function band in 1983 - The Dave Cottle band which has played at over 1000 wedding partied, plus corporate events.
Dave's jazz piano skills were honed through working with a host of top Jazz performers. Dave is a self taught Jazz pianist, having studied classical music to a high standard and technical ability he developed his own versatile style and learned jazz harmonies and arranging skills.
Since 1997, Dave has programmed the weekly events at Swansea Jazzland, to date arranging over 1000 jazz events at the venue. Dave is Artistic director for Swansea International Jazz Festival - Running for 6 years since 2014, it was The biggest Jazz Festival in Wales in 2016 & 2017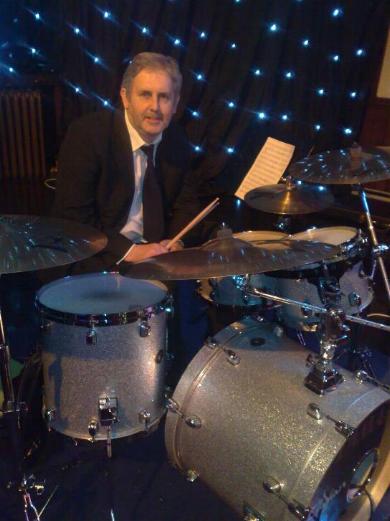 Paul is a native of Swansea in South Wales, and has been playing drums since around the age of eight. With a professional career spanning nearly 30 years he has earned a reputation as one of the most versatile and talented players around, enjoying success in many different genres from rock, pop, jazz, funk and big band, to a 100-piece orchestra for a live Radio 3 performance of Bernstein's 'MASS' with the BBC NATIONAL ORCHESTRA OF WALES.
His playing career started in the workingmen's clubs of South Wales at the tender age of 14 and then progressed to residencies with dance bands and rock bands before becoming professional in 1983.
Much of his professional career has been spent touring the UK and many other countries including Australia, Hong Kong, Korea, New Zealand and Dubai. He has appeared on countless television and radio programs working with a diverse range of artistes including the Chamber Orchestra of Wales, Michael Ball, Charlotte Church, Sasha Distelle, Dave Edmunds, Lesley Joseph, Eartha Kitt, Cerys Mathews, Leo Sayer, Larry Adler, Sir Harry Secombe, David Soul, Shakin Stevens, Bryn Terfel, Bonnie Tyler, Julian Lloyd Webber, and Toyah Wilcox. He has even featured in a televised drum duet with comedy legend Eric Sykes and recently appeared on an episode of the sky 1 series 'Stella'.
Paul has toured extensively with the likes of Freddie Starr, Roger Whittaker, Lesley Garrett, and Brotherhood of Man and has been a member of Welsh comedian Max Boyce's Band for 30 years. He has also completed three UK tours with the winners of the BBC's 'Last Choir Standing' program, `Only Men Aloud' and also in 2013 toured with X factor runner up Rhydian roberts.
Over the years Paul has also gained vast experience in the recording studio playing on many albums,and television theme tunes most recently on Only men aloud's new album 'On the road', Dan and Laura Curtis' album 'Love on 42nd street' reaching number one in the Amazon and iTunes Broadway and Vocal charts in the UK and US and also Welsh Television soap opera theme tune 'Pobol y cwm'.
During the last 15 years, Paul has been a regular member of the SWANSEA JAZZLAND house trio, playing for many visiting musicians including Jim Mullen, Mornington Lockett, Dave O'Higgins, Bruce Adams, Dick Pearce, Lee Gibson and many more.
He has also worked on many theatre shows including UK tours of Saturday Night Fever, Grease, and Crazy For You.
Paul is also a busy teacher taking pupils of any age through different styles including jazz, rock, pop, theatre.
Because of his consummate skill and total professionalism, Paul is consistently called upon to play at the highest level in some of the most demanding `live' and studio situations.
Below is a list of some of the many television programs he has worked on.
'CODI'R TO' - S4C (8 SHOW SERIES)
'MARDI GRAS' - S4C (8 SHOW SERIES)
PETER KARRIE 'UNMASKED' - BBC (SERIES 1 AND 2)
SIAN COTHI - S4C (6 SHOW SERIES)
MARGARET WILLIAMS SHOW - S4C (6 SHOW SERIES)
'NIA' - S4C (SERIES 1 AND 2)
MAX BOYCE - 'IN CONCERT' (VIDEO)
MAX BOYCE – 'PLANET MAX' BBC (4 SHOW SERIES)
MAX BOYCE - 'AN EVENING WITH MAX BOYCE' BBC
MAX BOYCE - 'MAX GOES TO SCHOOL' BBC
MAX BOYCE - 'SUNDAY NIGHT LIVE AT THE PALLADIUM'
MAX BOYCE - LIVE AT TREORCHY AGAIN 2011
'CHIS A MEINIR' – S4C (SERIES)
'PENBLWYDD HAPUS' – S4C (2 SHOWS)
WELSH ASSEMBLY OPENING CONCERT (BBC N.O.W.)
TELEVISED EISTEDDFOD CONCERTS S4C
BRYN TERFEL'S 'Y FEANOL' FESTIVAL (2 YEARS)
'JONES JONES JONES' - S4C (TV SPECIAL)
RUTH JONES – 'RUTH'S CHRISTMAS CRACKER' BBC
FREDDIE STARR - CARLTON TV (6 SHOW SERIES) ITV
FREDDIE STARR – 'LIVE AND DEVELISH' (VIDEO)
OWEN MONEY - 'MONEY IN THE BANK' - BBC (SERIES 1 AND 2)
RHYDIAN ROBERTS-TELEVISION SHOW 2011
RHYDIAN ROBERTS-CHRISMAS SPECIAL 2011
WYNNE EVANS(GO-COMPARE)-TELEVISION SHOW.
'UNDER MILK WOOD' FILM - MUSIC COMPOPSED BY MARK THOMAS, DIRECTED BY KEVIN ALLEN. - 2014
'STELLA' - SKY 1 SERIES FEATURING RUTH JONES. SERIES 5, EPISODE 8. 2015
'POBOL Y CWM' (WELSH SAOP OPERA) SIGNATURE TUNE - 2015
'C'MON WALES' - TELEVISION SHOW WITH THE BBC NATIONAL ORCHESTRA OF WALES FOR WALES' EURO 2016 FOOTBALL CAMPAIGN - BBC WALES
WELSH NATIONAL EISTEDDFOD OPENING CONCERT FOR S4C WITH 'ONLY MEN ALOUD' 2016
PAUL PLAYS TAMA DRUMS, ZILDJIAN CYMBALS AND ROLAND ELECTRONICS
Born 14th December 1974, Alun became interested in playing bass after seeing Gene Simmons with Kiss on TV in the late 80s ( that's right - it wasn't even the make up era, it was the dodgy wig Crazy Nights era!). Unable to afford a bass, he set about dropping hints for the following Christmas ( this started in the Spring!) and set about learning everything he could about the bass and music . For reasons best known to himself, he strung a 15" ruler with four elastic bands and used that for nearly a year. Alun later said that "Using the Ashbory (which has silicone rubber strings) feels like I've come full circle."
Alun started off playing in rock and metal bands which rehearsed a lot but never actually gigged until he met guitarist Ian Simmons in the early 90's and joined Nothing Personal, a jazz-rock 5 piece featuring Ian's brother Steve on sax. This band played various festivals, including the Vienne Jazz Festival in'94, and played many club gigs ( often to no-one) This band was then largely responsible for everything that followed...
Through Steve Simmons, he joined Fat Barry's Soul Band, a Welsh Commitments/Blues Brothers style act that he played with for several years,leaving in 1999. Steve was also playing with rock group Karnataka, which ultimately led to friendships that led to Alun being asked to join Panic Room when Karnataka dissolved.He recorded two albums with Panic Room, including the award winning "Satellite" which included writing credits on "Black Noise" and "The Great Divide".
Through Nothing Personal, Alun also met jazz pianist Dave Cottle who runs the hugely successful Swansea Jazzland club. This collaboration has led to Alun playing with some of the finest players on the UK jazz scene as well as backing visiting musicians from Europe and the US.
Alun is a busy recording artist, producing a string of solo releases in addition to playing on albums by artists in the UK and,thanks to the internet, Europe and the US.
Alun is also a tutor on trumpeter Steve Waterman's annual big band jazz course, performs solo bass shows and runs an instructional website, Bassbook.
Alun is proud to endorse the Hartke VXL Bass Attack preamp.
http://www.alunvaughan.com/bio.htm