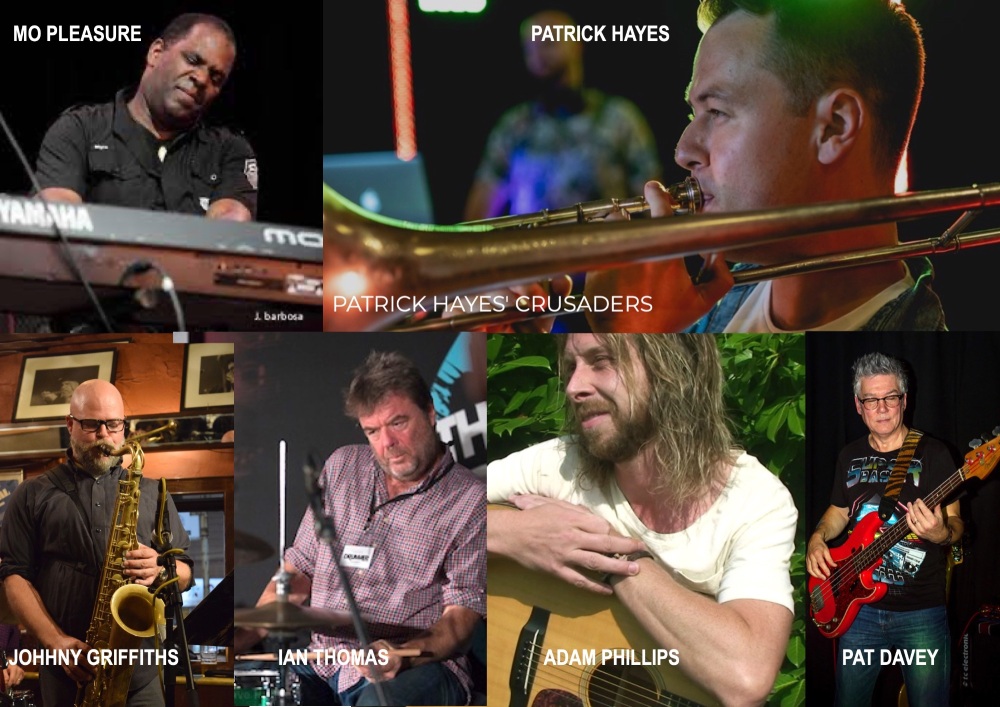 WEDNESDAY FEBRUARY 7th, 8pm : PATRICK HAYES 'CRUSADERS'

MO PLEASURE (Keyboards) IAN THOMAS (Drums) PATRICK HAYES (Trombone) JOHNNY GRIFFITHS (Sax) ADAM PHILIPS (Guitar ) PAT DAVEY (BASS)

£20.00
A band featuring some of the UK's finest session musicians!
'Patrick Hayes' Crusaders,' a band featuring some of the UK's finest session musicians, is a tribute to the legendary 1970s horn-led Houston Jazz-Funk group The Crusaders.

The Crusaders trombone/tenor sax frontline became their trademark, mixing R&B and Memphis soul elements with hard bop, they were international jazz festival stars, appearing at many of the world's celebrated jazz events over their 50+ years in the business.

Patrick Hayes' Crusaders cover all eras of the band's history, from the early Jazz Crusaders material to the Street Life years of the 1980s.

Since their formation in 2019, the band has performed at venues and festivals all over the UK and abroad, and they are regulars at London's Ronnie Scott's. Members of the band have performed and recorded with Quincy Jones, Michael Jackson, Hans Zimmer, Sir Paul McCartney, Stevie Wonder, Sting, and many others.

PATRICK HAYES (TOMBONE) is a well-known multi-instrumentalist, composer, and arranger in a variety of musical genres on the London music scene. Over the years, he has performed, recorded, or arranged for a diverse range of commercial artists, including Chaka Khan, Christina Aguilera, Sir Tom Jones, Van Morrison, Paul Carrack, Michael Ball, Alfie Boe, Phil Ramone, The O'Jays, Hamish Stuart, The Lighthouse Family, and James Taylor Quartet, as well as jazz artists Snarky Puppy, Curtis Stigers, Gregory Porter, Gerard Presencer, Dave Douglas, Nestor

JONNY GRIFFITHS (Saxophone) joins Patrick in the Crusader's front line and together they are part of the top UK horn section Triple H Horns – famous for working with Chaka Khan, Christina Aguilera, Chromeo, Disciples, Tayla Parx/Harloe, A-Trak, Dave Taylor: Switch/Sarah Ruba (Diary Records), FKJ, Sir Tom Jones and many others.
MO PLEASURE (Keyboards) Multi instrumentalist and producer Morris "Mo" Pleasure has been at the forefront of American popular music for the last three decades and his CV reads like a 'Who's Who?' of popular music.
Mo began his professional career playing with Ray Charles before moving on to working with the likes of George Duke, Christina Aguilera, Chaka Khan, Mary J Blige, Natalie Cole, Roberta Flack and David Foster to name but a few, and he is currently Musical Director for the iconic Bette Midler.
In 1993 he became a member and the Musical Director of legendary group Earth Wind and Fire and after that went on to play keyboards, trumpet and guitar on Janet Jackson's 2001 "all for you" tour. Mo was also approached by Michael Jackson to play keyboards in his band for the 'This is it' tour that sadly never took place.
IAN THOMAS (Drums) Over his career Ian Thomas has worked in almost every musical style playing everywhere from basement jazz clubs to Madison Square Garden and has recorded with some of the most successful artists in the world.
Ian Thomas was born in Cardiff Wales in 1963 and began playing drums at the age of 12. Throughout his teens Ian played in organ and drum duos for local dance and cabaret clubs, which lead to his first professional job at Barry Island Butlins in 1979. Ian subsequently played summer seasons, cruise ships and worked in the Cardiff and South Wales area until moving to London in 1984. After joining the National Youth Jazz Orchestra in 1985, which lead to numerous London gigs, Ian was asked to play on his first major session in 1987. The track was 'Kissing a Fool' by George Michael for the album 'Faith'. His next major break was being asked to tour with Seal in 1990 and did so for two years playing live and recording.
Since then Ian has gone on to tour with artists such as: Mike Oldfield, Tom Jones, Eric Clapton and Mark Knopfler and his recording career has included albums with Mick Jagger, Eric Clapton, Robbie Robertson, BB King and Chrisse Hynde to name but a few.
PAT DAVEY (Bass) Pat is the man who puts the big fat grooves into Groovemeister. One of the finest and funkiest Bass players ever to come out of the South of England, anyone forming a funky band would wants Pat's name on the teamsheet.
He worked and toured with Tom Robinson in the early 80's (Old Grey Whistle Test On The Road, Live at the Edinburgh Fringe, Japan, Europe) and then on to other projects working for many years with Howie Casey (Wings), Martin Jenner (Cliff Richard/Everley Bros). Toured Japan, Bulgaria, Germany, Iceland, Scandinavia and the Middle East.
He was the Bass player with Polydor signed band 'Seven' and toured with Brother Beyond (twice), Jason Donovan, The Monkees and Richard Marx. Numerous TV, Radio and Concert appearances.
He spent some time in Dubai in the 90's with a jazz quartet and had the pleasure of working with the late Ronnie Scott's Quartet and George Melly.
Back in the UK, Pat toured with 'The Official Tribute to the Blues Bros' and appeared with the show in the West End. He also worked extensively with The Smith Brothers Tribute to The Blues Brothers working for the BBC and BA and recorded with Rock and Roll legends Roy Young and Tony Sheridan (The Beatles).
In the Jazz field, Pat has worked with several top outfits and has had the pleasure of playing with Jim Mullen, Claire Martin, Jason Rebello, Ken Foley, Mornington Locket, Jeremy and Paul Stacey, Anthony Adams and the Simply Sinatra Big Band and The Roger Beaujolais Project.
As well as playing with Groovemeister, Pat is currently working with Robert Hart's Bad Company, Boogie Piano legend Roy Young and also with Jim Cregan and Gary Grainger from The Rod Stewart Band.
Pat also spent some years teaching Electric Bass at Bournemouth & Poole College of Music.
ADAM PHILLIPS (Guitar)
Adam Phillips has performed and recorded with Tina Turner, Dave Lewis, Ricky Martin, Steps, Britney Spears, Ronan Keating, Laura Pausini, Celine Dion, Maxi Priest, The Corrs, Shayne Ward, Boyzone, Hamish Stuart, Lionel Richie, Renato Zero, Tom Robinson, Whitney Houston, Richard Ashcroft and Tony O'Malley.
He has worked on most of Cher's latest recordings. As a guitarist on Hamish Stuart's European tours, he was introduced to Cher by Stuart.[1] Phillips was employed by Cher as a guitarist on her Believe album. He later went on to play guitar on her "All or Nothing" single (1999), and her Living Proof album (2001). In 1998, Phillips was the guitarist on Peter Blegvad's Hangman's Hill album. Enrique Iglesias used Phillips as a guitarist on 2003's album, 7. Further work as a guitarist included The Herbaliser's Take London (2005); Just Jack's Overtones (2007); James Morrison's Songs for You, Truths for Me (2008); and in 2009 Destroy Destroy Destroy's Battle Sluts.
In July 2007, as a regular guitarist with the Tom Robinson Band, he was featured in a Tom Robinson performance at the Cancer Research Benefit in London, also including T. V. Smith. Phillips is also a frequent performer at Chelsea's (London) 606 Club, particularly with jazz musicians Dave Lewis and Tony O'Malley.
In May 2008, he was a guitarist with the temporarily reformed 1970s jazz funk band, Kokomo, with Tony O'Malley, Frank Collins, Paddy McHugh, Dyan Birch, Mel Collins, Neil Hubbard, Mark Smith, Andy Hamilton, Bernie Holland, and Glen Le Fleur. O'Malley's own band, regularly features Phillips, along with Mel Collins, Hubbard, Smith, Jeremy Stacey, and Ash Soan.
Phillips has performed and recorded as a drummer and percussionist, and has frequently been used as a backing vocalist. On occasion his work has been used in film soundtracks, including What a Girl Wants (2003).